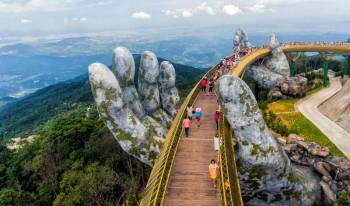 In the morning, transfer to Ba Na Hills, pass the seashore on Nguyen Tat Thanh Street, one of the most beautiful roads of Da Nang City and Red Beach, where the French first landed in Da Nang.
Arrive in the Cable car station at the foot of Ba Na Mountain. Enjoy the first leg Cable car, which achieves two Guinness World Records in 2009, longest non-stop cable car (5,042m) and highest non-stop cable car (1,292m). Sitting in the cabin, in mid-air, looking upon the endless tree line of the forests, bring you with spectacular views of the lush jungle and fairly waterfalls along the way.
Firstly, step on Golden Bridge which stands 1,400m above sea level in the Ba Na hills, extends over the treetops from the edge of a leafy cliff face offering tourists uninterrupted views of the majestic landscape beneath. The Golden Bridge is the latest tourist attraction in Da Nang and has attracted hordes of guests since it opened.
Visit the Le Jardin, old wine cellar, remains of French Villas and Ling Ung Pagoda with 27m high Buddha status. We then leave the Le Jardin for the second cable car station to visit the top of mountain and see the remain of old villas. Conquer the Peak of Chua Mountain at the height of 1,487m. View the whole Da Nang city under the cluster of white clouds. Leave Peak of Chua Mountain, visit the trail of Dreaming Stream, Rainbow Waterfall, Suspension Bridge, Golden Valley, and ruined Opera House. Enjoy 105 free games t Fantasy Park and speed slide…Play with wild monkeys and take photo freely. Then we return to Cable car station at foot of Ba Na Mountain then transfer to Danang.
After Bana Hill we will shopping at Han market
Overnight in Danang.
Buffe lunch at Bana Hill/ Dinner at Indian restaurant