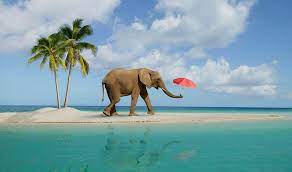 Embark on the most memorable excursion to Elephant Beach/ Light House by boat in the morning where guest can indulge in water sports like Snorkeling, Jet Kayak, Sea Walk - Subject to weather ( All Activities on extra payment), just 25 - 40 min by Boat. This beach offers calm blue shallow waters and is the perfect spot for water sports. It's also a great place to just spend the day lying on the beach and relaxing. The beach is very scenic with fallen trees and white sand giving the photographer some interesting shots. The reef here starts very close to shore at a depth of about 1 metre. The large reef is mostly made up of hard coral and has plenty of marine life. Return back and proceed to Hotel. Evening at Leisure.
The boats to EB are managed by a boat association who need individual guest to fill a consent form after which boats are allotted based on rotation and sharing basis.
Due to limited boats guest may have to wait until their boat is allotted and we have no control over the wait time
Please carry change of clothes, towel, cap, sunglasses, and sunscreen and wear comfort clothing for this trip.
Incase Elephant Beach trip is not operating due to sea conditions then guest will be taken to Light House.
Guest can purchase water, snacks from shops nearby the counter before proceeding on the trip as nothing is available at Elephant Beach. Do not Litter on the beach and throw waste only in the dustbins.
DRINKING is strictly prohibited on Elephant Beach.